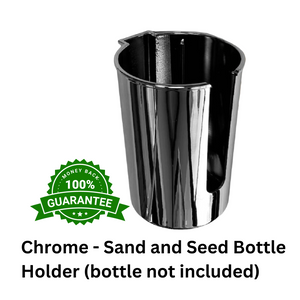 Chrome - Sand and Seed Bottle Holder (bottle not included)
Shop with confidence, don't like it? We'll buy it back!
NOTE: You may purchase bottles or holders separately, or as combination sets. Please look at all options before placing order.
(Chrome Holder only)
Chrome holder fits 45 oz bottom fill, no rattle, Sand and Seed bottle (bottle sold separately)
We offer free shipping within the contiguous 48 states along with quantity discounts.
---
We Also Recommend